SE University is excited to bring the BEST Advanced Training to other Medical Spas, Dermatology & Plastic Surgeon Offices. The Microblading Class can be taken by Aesthetic or Cosmetology Students. The CoolSculpting, Fraxel/Photofacial, Dermaplaning & Microneedling Classes are only available for Licensed Professionals. Pricing is for individuals, but we offer a discount for 3 or more Professionals taking the classes together.
Kelly Davis, Owner of Skin Essentials Luxury Med Spa has been in the Medical Spa Industry for 20 years and is known as a leader and mentor to many. Kelly loves to take her artistic ability, the machine or procedure and mix it with a little bit of Jesus to get the best results! Kelly has been chosen to be on the CoolSculpting Advisory Board 3 years in a row plus is a National Trainer for CoolSculpting, BTL and Cynosure. Her fun, energetic and creative leadership skills set her apart from other educators and she is able share her years of success and even her failures to help others succeed. Kelly has a vast knowledge of a modality of treatments, including her ability to do custom off label treatments to give extraordinary results. She teaches her team and students how to be successful in retaining clients and how to double their income without working extra hours. Each class will go over marketing, social media presence, how to have the perfect consultation, the art of selling retail, and how to successfully re-book clients/patients for a guaranteed paycheck.
Elizabeth Fuller, Medical Aesthetician and Educator, has been in the Medical Spa Industry for 11 years and has been teaching classes all over Houston and surrounding areas for the 4 years. Elizabeth is always looking for the latest techniques to stay innovative and ahead in this growing industry. She has taken her ability to perform medical spa services to master them to give her clients the best service and experience. Her growth in the industry has been more than exemplary and she is sought out by colleges and trade schools, to be an educator, due to her expertise and success.
For information email:
SEUniversityTraining@gmail.com


Call:

980-EDUCATE


Text:

281-786-7133
Pratice Consulting


Ready to Grow Your Team? Book Your Private Training TODAY!
20% OFF 1 Class for Groups of 3-7
25% OFF 1 Class for Groups of 8 & Up
11464 Space Center Blvd Houston,TX 77059
Email: SEUniversityTraining@gmail.com
Call: 980-EDUCATE
Text: 281-786-7133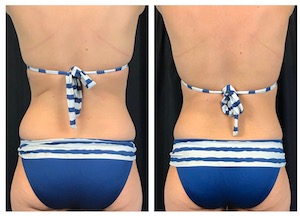 CoolSculpting
Kelly Davis, the Owner, is on the National Advisory Board for 3 years in a row and Skin Essentials ranks in the top TEN CoolSculpting Practices of the USA. Kelly Davis & Elizabeth Fuller, CoolSculpting Artist & Trainer have successfully performed over 7000 CoolSculpting Treatments and are nationally recognized due to their patients transformations. SE University offers a Beginner Class, an Advanced Class and a Team Training Class.
Microblading
Kelly Davis, Owner & Elizabeth Fuller, Artist & Educator both have over 15 years experience each and have performed a combined total of over 10,000 Permanent Make-up & Microblading Procedures. The Introductory 2 Day Class includes Classroom Instruction, Hands on 3 Models & a Starter Kit.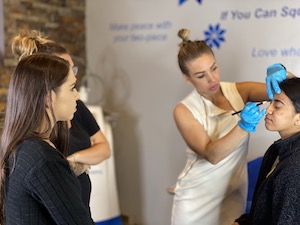 Dermaplaning, Hydraderm & Oxygen Treatments
Dermaplaning uses a tiny, sterile blade to gently take off peach fuzz while exfoliating your client's skin to exfoliate and drastically improve the texture of their skin. Dermaplaning will help bump your sales up and can increase your income drastically without adding much additional time! We will also include education on adding a hydraderm and oxygen treatment on top of the dermplaning to show how layering treatments can increase same day sales while enhancing your patients skin to look and feel more hydrated, and visibly more plump on top of being exfoliated.
This class includes a start up kit for 10 dermaplaning treatments which will pay for your class, plus the ability to bring in 3 models to help cover the cost of your class. As a student, you will experience how dermaplaning feels so that you are able to easily educate, not sell, to your clients!
Fraxel/Photofacial Class
Kelly Davis, Owner and Elizabeth Fuller, Artist & Trainer have performed a combined total of over 15,000 Photofacials in the last 16 years. Kelly Davis had a mobile laser company for over 3 years, prior to opening up the first Skin Essentials location, treating patients at Physician offices throughout Houston and surrounding areas.
Kelly Davis, Owner and Elizabeth Fuller, Artist & Trainer have taken their laser experience to a whole other level with non-ablative Fraxel Treatments utiilizing the Cynosure Icon and the PicoSure. With their ability to properly analyze skin, understand the advanced technology of eafch machine, Kelly and Elizabeth have been able to treat and get rid of scars, melasma, stretch marks, deep wrinkles, cratering acne scars and have also created their Signature Treatment "The Fraxel Facelift".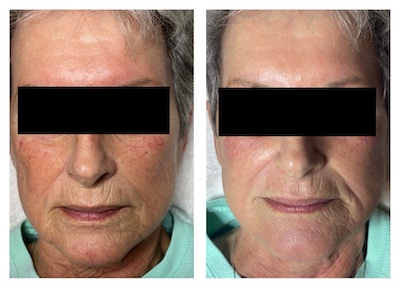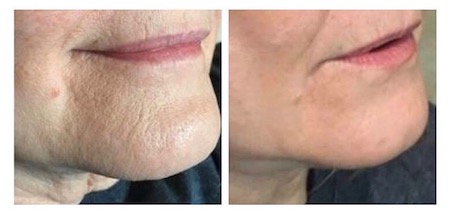 Microneedling
The microneeding class will show you how to successfully use any microneedling device on the face and body with the proper depths to give noticeable results, while minimizing the downtime for your clients or patients. Kelly Davis and Elizabeth Fuller have successfully treated hundreds of clients with microneedling devices and have over 7 years experience utilizing different techniques. This class includes learning to utilize dermastamping tools to concentrated areas. You will receive a treatment and learn how to help your clients or patients skin heal faster than typical microneedling procedures. Models can be brought in to help offset the cost of the class. This class also includes a demo on teeth whitening to show you another service that is easy to generate additional revenue with.